I have been busy with an interesting sewing challenge, a beautiful evening gown for my daughter. We started by trialling several patterns, and picked the one that looked and felt the best. The toiles were made from old sheets picked up from the op shop. We have gone with a very elegant Vogue pattern.
I bought the pattern second hand, and as it was the wrong size, had to resize it down to a 10 (the pattern was 12-16). That was quite a task with 20 full size pattern pieces! Phew, what a job.
Next was selecting the fabric. We opted for a good quality suiting, that had a lovely drape, wouldn't crease, and has a velvety sheen. It looks very elegant without being all shiny like satin. The photos don't quite capture it, and it is darker than it looks in the pics.
I think I used almost every pin in the house to cut out all those pieces!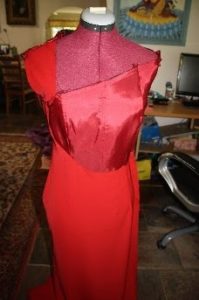 Here's the basic dress put together, front & back. The bodice is made from lining fabric where it gets covered over with the drape. Now to put together the lining and drape.

The invisible zip in place.
And here's the front section all sewn into place! A bit more hand sewing along the back neckline. I have decided, that rather than twist the front and back drapes as the pattern instructs, to sew a loop and draw them through that instead. I also changed the left shoulder slightly as well to eliminate bulk under the clips.
Can't finish the hem until we buy the shoes to wear with it!